How would you like to look gorgeous on your wedding day? Of course, the best way to do that is by wearing a beautiful headpiece. But what if you have short hair and don't want to wear an updo or veil?
A wedding headpiece is a traditional accessory that many women wear on their wedding day. A bride can be seen adorned with a beautiful crown or tiara at her wedding ceremony and reception, but what about when it's time for dancing? You may find yourself wanting to take off your veil and put on something more comfortable. There are plenty of fashionable options out there that won't require you to change your hairstyle.
Choosing bridal headpieces for girls with short hair
Many women are looking for a wedding headpiece for short hair. We have found some great options that you'll love!
The Butterfly Vine Hair Clip – This is an elegant hair clip with three dangling chains. It comes in gold, silver, or rose gold and is perfect to wear on your wedding day or another special occasion.
The Pearl Hair Clip – This gorgeous pearl hair clip will add the perfect touch of elegance to any hairstyle. It's available in white, champagne, pink, and black pearls so that you can find the right color for your look!
The Rhinestone Tiara Headband – Add some sparkle to your outfit with this stunning tiara headband adorned with rhinestones. Headbands – A simple headband is one way to dress up an otherwise bare head. It can also be used to frame shorter layers, so they don't get lost in the rest of your hair. Choose a bold color or pattern if you want something more noticeable on top of your head than just some fabric wrapped around it.
A woman with a pixie haircut may not have the luxury of wearing long hair, but that doesn't mean she can't try to make her short hair look as beautiful as possible.
Style wedding hair accessories with short hair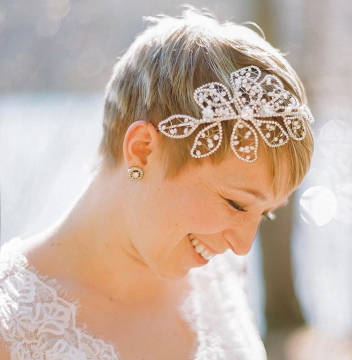 Do you have short hair? Or maybe your hair is just looking a little flat and lifeless. We'll start by going over some of the most popular updos for shorter-haired women, as well as how to make them work on any hairstyle. Then we'll go over some attractive options for those who still want their locks down and flowing freely on their wedding day! All in all, there are plenty of possibilities available to us when it comes to styling our short locks during our big day.
A woman with short hair has a hard time finding the right accessories for her wedding day. They are limited in the color, size, and shape of their options. I am here to tell you that it is possible to style your short hair on your big day. Here are some great ideas for doing so. Please feel free to reach out if you have any questions about these suggestions or want more personalized help with styling your look.