Are you getting married and don't know how to decorate your chairs for the reception? There are many different ways to go about this. For example, you could use ribbon, flowers, or even lace.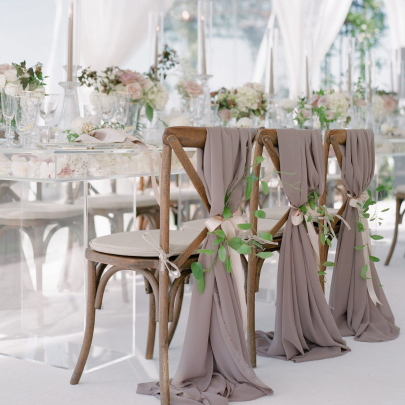 Are you planning your wedding and looking for ways to decorate the chairs? There are a few different options available. You can either buy chair covers, use ribbon, or create your unique design. Chair covers will hide the existing fabric on the back of the chair, and many come with matching bows that can be tied in a pretty bow on top of each seat. The ribbon is another option; it is often used as an accent piece to tie around buttons, run along seams, or be attached to napkins for place settings. Creating your design may take more time but will allow you to have something completely original!  Include any pictures, if any examples show how these designs look when completed.
Pretty wedding chair decorations
Are you looking for a way to decorate your wedding chairs? Here are some ways to make your seats more elegant and original.
Use lace or satin ribbons to tie bows on the back of each chair. This will add a touch of sophistication and charm.
Cut out paper flowers from magazines, glue them onto cardstock, then cut out circles from construction paper or scrapbooking paper and attach them with double-sided tape for a unique look that is both inexpensive and easy!
Cover the seat in tulle fabric to create an airy feeling.
Wrap ribbon around the legs of the chair, securing it with staples every few inches so that loops are hanging down when finished.
Chair-back decor ideas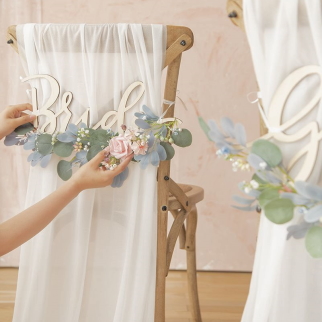 Do you have a wedding in the near future? Is your head spinning with ways to decorate chairs for that special occasion? Here are three easy ways to spruce up chairs for weddings. First, paint them. If your chair is fabric, use stencils and spray paint. For metal or wood chairs, apply chalkboard paint with a roller brush. It's quick and easy. Second, cover them with plastic tablecloths (some people even do this before buying their wedding dress). Finally, if you're feeling creative – make an envelope cushion by cutting out two rectangles of fabric on one side of the rectangle; sew the sides together; stuff it with the batting; fold over excess fabric; sew down edges around the opening.